Chocolate Covered Popcorn
Our chocolate covered popcorn gives you a whole new way to enjoy your favorite sweet treat. We start with our freshly popped popcorn and cover it with a thick layer of creamy milk and dark chocolate, then sprinkle on any of our mouthwatering flavors for anytime snack. Complete your chocolate snacks with our delectable flavors to find your sweet cravings.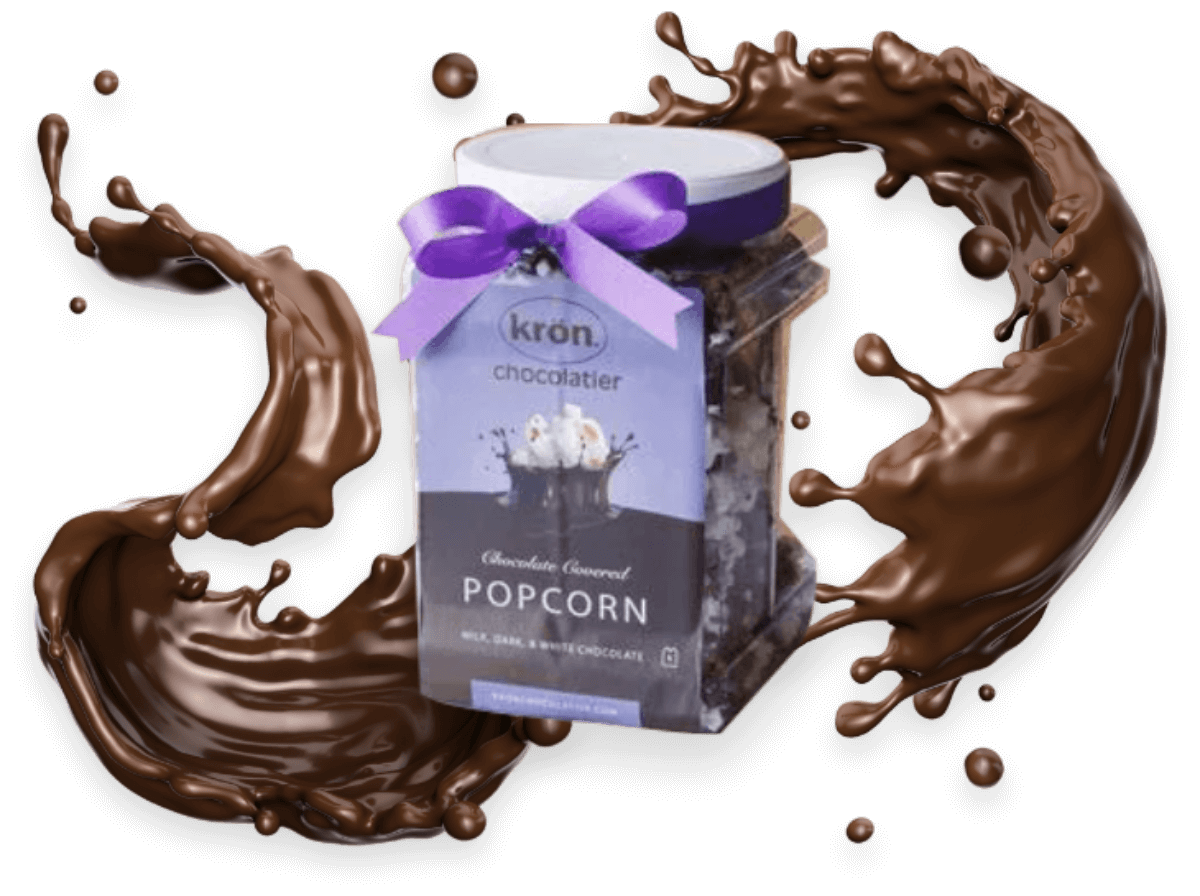 Selection
When it comes to finding the perfect gift, our selection of pre-assembled gift boxes has something for everyone.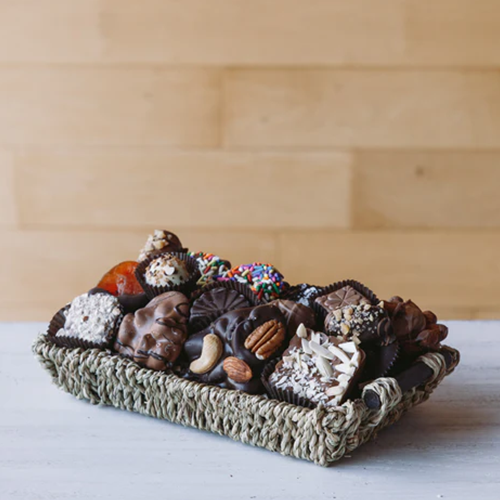 Made to Order
Maybe you're looking for something unique? Reach out to us and we can help you create your own gift box or basket to your exact specifications. The sky's the limit!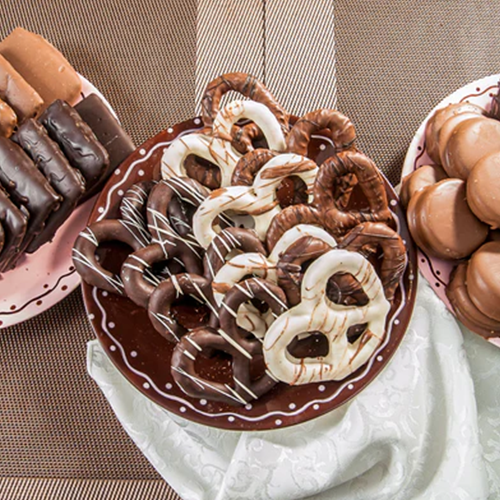 Send a Gift
Once you choose the perfect chocoalte gift, simply add a heartfelt message and the complete name and address information.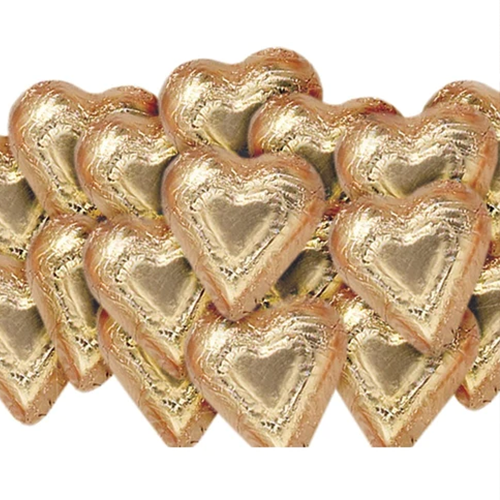 Arrival
Our experts will take care of the rest, carefully packing and insulating your gift and ensuring it arrives on time and in perfect condition. You'll see tracking so you always know what's happening with your order along the way. gift giving has never been easier!
Chocolate Popcorn Snacks
Our chocolate covered popcorn box combines the classic flavor of popcorn with a chocolatey coating to create delicious desserts and toothsome chocolate snacks that everyone will love. Try our original chocolate covered fruit delivery that covers popcorn pizza, supreme chocolate-covered pizza, and oreo® chocolate-covered popcorn pizzas.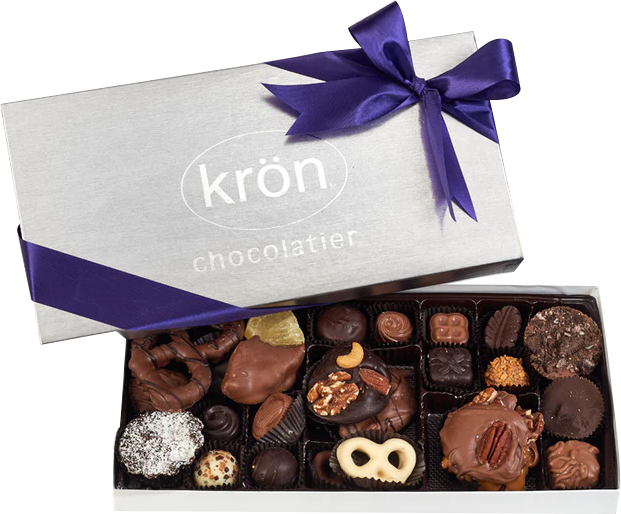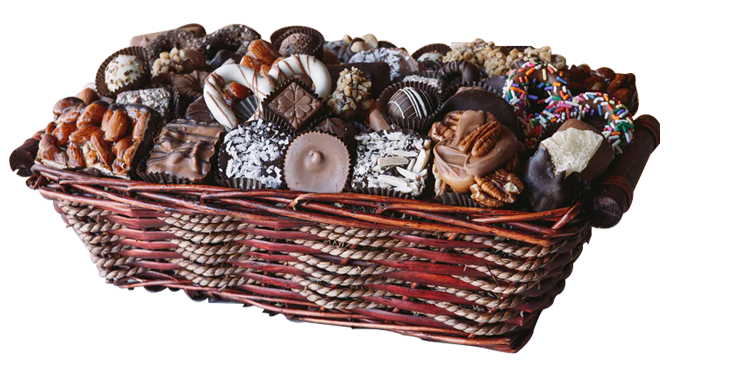 Perfect for Any Occasion!
Chocolate Covered Popcorn is an impressive and delicious treat that's perfect for any occasion! If you are after chocolate gift sets, this collection features a variety of flavors that are sure to please chocolate lovers. This assortment of chocolates comes in a variety of flavors including white and dark chocolate covered snacks. Order now!
A Tasty Snack that Everyone will Love
We take wholesome, quality ingredients and chocolate covered delicious snacks that everyone will love. The result is the chocolate snacks that you'd expect from us: tasty, indulgent, and so yummy. You can find our incredible tasty snacks in chocolate popcorn gift baskets that you can order at Krön Chocolatier for your next special occasion!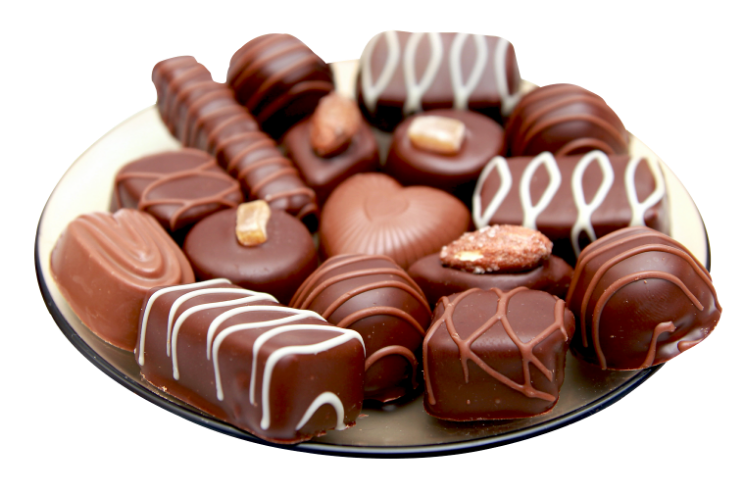 If you are looking for chocolate popcorn online, you can get the best ones from Krön Chocolatier. The chocolate popcorn we sell is an absolute delight. After all, we make them from the finest-quality chocolates. Whether you buy chocolate covered popcorn from us as movie-night snacks or daytime delights, they are sure to please you with their chocolatey taste. Moreover, these chocolate popcorns come in four sizes for you to order from. You will find them a tasty sensation that is nothing short of a wonder. So, get your hands on them today.
Buy Chocolate Popcorn to taste a Sweet & Salty Combo!
Unlike our other sweet delectables like chocolate truffles and foiled wrapped chocolates, our chocolate popcorn has a unique blend of saltiness and sweetness. Additionally, this sweet and salty contrast makes them a sensory pleasure to eat. Our chocolate popcorn is the best combination of crispy popcorn and the smooth, velvety chocolate coating. In fact, these chocolatey popcorns are a versatile snack that you can enjoy anytime and anywhere. Place your chocolate popcorn online order right away! You will find our chocolate popcorn thick in texture and rich in taste. Once you get a taste of these, it will be impossible for you to stop yourself from ordering more. The taste of these chocolatey delectables is more than half their allure. Moreover, these popcorns hold chocolatey goodness without any down sides.
Benefits of eating chocolate popcorn!
High Antioxidants
Less calorie intake
High-fiber content
Source of minerals
Moreover, this chocolate covered popcorn is a snack that you can easily enjoy with your friends and family for a flavorful fun. It is a snack that is suited for movie nights, parties, and holiday gatherings. What's more, after you buy chocolate popcorn from us, you can also munch on them as an everyday indulgence. Krön Chocolatier chocolate covered popcorn also comes with an exceptionally longer shelf life. You should think of this as a convenient snack for your unexpected cravings. This is the kind of chocolatey snack that all the age groups enjoy and all the gatherings revel in. Get your hands on some of it today if you want to experience what otherworldly pleasure tastes like.
Looking for, "Chocolate covered popcorn near me?"
You can get the most delightfully tasty chocolate popcorn online from Krön Chocolatier. Whether you gift them to a friend or eat them yourself, the chocolate popcorn we sell is absolute bliss. You can even eat them for a quick boost of energy during outdoor activities. Undoubtedly, this chocolatey and salty popcorn is a great snack for both picnics and road trips. So, place your order right away and delight yourself with a perfect combination of sweetness and saltiness. This is the kind of chocolatey delight that you need to taste and share with your friends.
Moreover, you can get these from us for a reasonably low price. Our low prices sweetly add to the delight of chocolatey snacks you buy from us. When you buy chocolate popcorn onlinefrom us, you can rely on us to provide you with the finest quality product. The milk, white, and dark chocolates we use for making this chocolate popcorn are also made from the freshest and finest ingredients. So, set alight your movie nights and outdoor picnics and trips with a salty and sweet combo of chocolate popcorn. Get your friends to join this fun as well by gifting them some of this too. The moment you pop these in your mouth, you will end up with a happy smile on your face.
Frequently Asked Questions