Halloween Chocolates
Frightfully tasty, our Halloween chocolate selection has irresistible delectables that are sure to uplift your Halloween party and trick-or-treating.
Selection
When it comes to finding the perfect gift, our selection of pre-assembled hampers and gifts has something for everyone.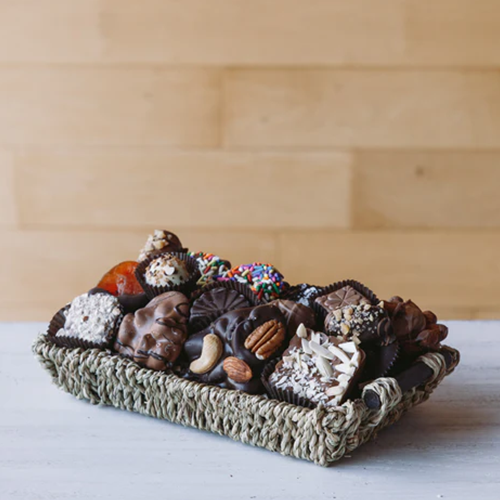 Made to Order
Maybe you're looking for something unique? In that case, you can create your own hamper or gift selection by simply adding the items you would like. The sky is the limit!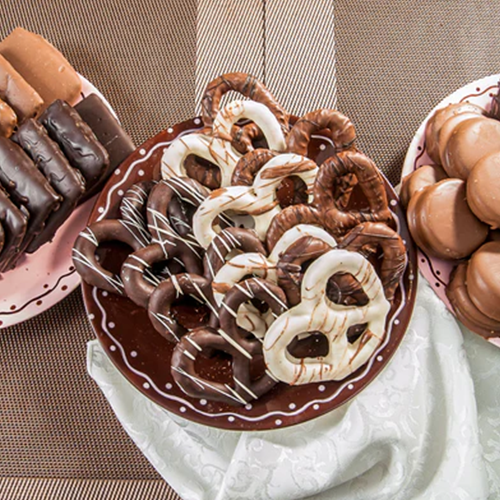 Information
Once you've added all of the desired items, simply enter your information onto our site and add the delivery addresses.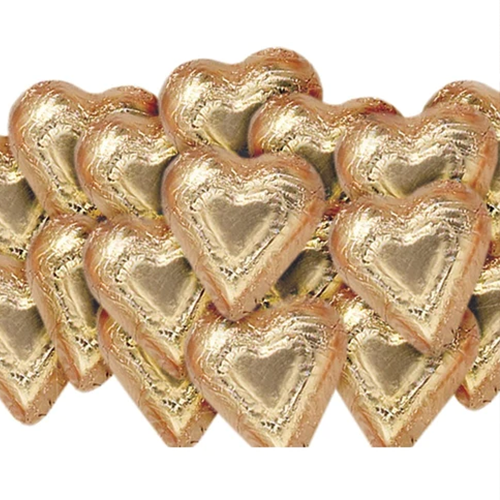 Arrival
We'll take care of the rest, ensuring that your gift arrives on time and in perfect condition. With our easy-to-use online system, finding and sending the perfect gift has never been easier.
Sweetening up the trick-or-treating
Sweet delectables from our Halloween chocolate selection are all you need if you are looking for the best candy treats for your haunted house this year. After all, we can easily provide you with Halloween chocolates that are sure to delight every goblin, ghost, or witches knocking at your front door. In fact, the number of these supernatural beings will double at your door when you give our chocolate bars on Halloween. Undoubtedly, our chocolates will delight your guests to a taste like never before – a flavorful otherworldliness. Besides, the goodness and sweetness of our chocolates is enough to even make vampires crave it. 
Clearly, our chocolatey treats have a trick up their sleeve; the taste haunts you to a point you cannot help but want more of it. Additionally, these chocolates for Halloween are just as special and customizable as the celebration itself. You can rely on us to provide you with the best chocolate gift crates to your liking. Even a wizard cannot cast as magical a spell as dreamy as our chocolates.
Hauntingly Sweet Halloween Chocolate Selection
Whether you need chocolate for trick-or-treating giveaways or presents to Halloween party guests, we have a selection that is tasty, flavorful, and wholly delicious. Made with real goodness, our Halloween chocolate selection has a soul of its own. After all, our confectioners are chocolate wizards in their own rights; our Halloween candy chocolate is a tasty zap of lightning that leaves you stunned with a tasteful sensation. Besides, we can accommodate your special requests as well. You can trust us to match your theme and style in the best way. We love to keep our customers happy – sweetly. Additionally, our chocolatey delights steal hearts; we have something for everyone, from chocolate truffles to dark chocolate caramels.
Moreover, our gourmet Halloween chocolate is light as a dream on your pockets. In fact, it is only heavy on the tongue with its taste and richness of flavor. The burst of sensational pleasure it brings to your taste buds is a haunting wonderous bliss in every way possible and imaginable. As aforementioned, we have a variety of chocolates – all sweet and savory – in our collections. So, we can easily provide you with the chocolates you need for your celebration style and theme. Undoubtedly, you will scream in delight when you taste our chocolate taste-bombs. What's more, if you order our Halloween chocolate box, you will experience a Frankenstein creation of terrific delight – an enlivening sweetness with monstrous flavor!
Devilishly Delicious Halloween Chocolate Gifts
Whether you need simple chocolate for Halloween or something more specific in shape and flavor, Krön Chocolatier can conjure the most delicious delights. After all, we have a knack for crafting the chocolates of your desire – flavor and taste. For instance, there is no soul on earth that can resist the siren call of our Halloween chocolate bars. Clearly, our chocolatey creations have a powerful allure that attracts everyone and anyone. From children to grownups, we can perfectly embed right taste in our chocolate creations; everyone falls under the spell of our chocolate treats. Additionally, we are the masters of creating a special sweetness that is sure to bewitch your guests with a profound happiness. No fairy can create a magic as pure and delightful as our chocolates. Undoubtedly, we can cast the right ingredients to satisfy your tastebuds and satiate your sweet tooth for chocolates.
The wholesomeness of our chocolates is a trick that you can treat to your guests and enchant them for evermore. Just a teeny tiny bite, and your guests' hearts will howl to devour the whole chocolate box and stack. Unlike any other Halloween treat, our Halloween chocolate has a special sense of sweetness. In fact, you can say that they come straight out of the tasty Wonderland. After all, we keep our chocolatey treats pure in taste and enriched with flavor. Moreover, the sugary sensation of our chocolates in your mouth is the rawest form of magic you can experience. Clearly, tasting our Halloween chocolate feels like an explosion of taste-filled stars. You can say that our chocolatey delights have a way of taking you to a galaxy far, far away – tastily. So, let our chocolates be by your side if you want to uplift your celebration to its fullest.